Mothers Day Special: Saving Lives in Childbirth
With Mother's Day coming up, the life-saving work of our partner charity Women and Children First (WCF) deserves a spotlight. I recently met their amazing and engaged team in London to discuss how WCF supports disadvantaged rural communities around the world to make childbirth safer.
Why do Women still die giving birth?
"It is true, 300,000 women still die every year in pregnancy and childbirth – that's one woman every two minutes. In the rural areas in developing countries in which our charity works, women are still dying of easily preventable problems.
A lack of infrastructure and access to health care is of course a huge problem. The distance to the next local hospital or medical facility might be over 5 km away across dirt roads and mountains with no ambulance or taxi. Also, families often lack the financial means for transportation and healthcare or are unaware of the government benefits they are entitled to. And even if they make it to a healthcare facility during pregnancy or when giving birth, it might be understaffed and lack required resources.
Gender inequality is a major component too. Child marriage leads to pregnancies at a very young age, putting the lives of women and their unborn children in danger. Plus women often aren't able to plan their own pregnancies; the number of children they are having is dictated by social expectations and a lack of contraceptives rather than their health condition and their own wishes.
Also, there is often a lack of knowledge surrounding pregnancy and childbirth and cultural practices such as female genital mutilation can make giving birth very dangerous. On a positive note, involvement of traditional birth attendants - local women who have a cultural or spiritual status within the community, but often lack the medical skills and carry unhygienic tools - has decreased over the last 20 years as more awareness and government policies prevent them from offering their services."
WCF sets up women's health groups in various regions of the world. How is this empowering women and saving lives?
"As women come together regularly to discuss their problems, they find solutions and overcome issues in a way they could not have done by themselves. WCF's role is behind the scenes. We work through local partners, who know the country and region best. In each community in which we help, our local partners train one woman to be the group facilitator - who will help and guide the women in her community in their meetings.
Working through women's health groups is a low-cost methodology that is recommended by the World Health Organisation. Rather than telling communities what to do, we provide some simple tools to help them find their own answers. This is much more sustainable as they find long-term solutions that really fit the local context. In communities in which we have established women's groups, our approach has shown to reduce the numbers of mothers dying by 49% and the number of newborn babies dying by 33% in comparison to other communities."
Watch this video to see how picture cards help women find solutions to the problems they face.
Can you give an example of how women's groups find local solutions to global problems?
"One example is how communities in different regions of the world are overcoming the problem of a lack of transportation to the next health facility. In Malawi, the groups built or bought bicycle ambulances as a means of transportation for community members that need to be taken to their health centre quickly. In Ethiopia, in a much hillier region, that wouldn't work – so the groups made bamboo stretchers instead. In Nepal, the groups made 'slings' to carry women in labour down the mountains to the hospital. While they all answer the same problem, it shows how important the local context is in finding solutions.
The example of transportation also shows how solutions to one problem are transferable and can often solve other problems as well. Once communities have for example built a bicycle ambulance or set up a transport fund, this will also help other community members. For example, babies and children with diarrhoea - which is often a cause of serious illness or death - can be taken to healthcare facilities quickly.
Mother's Day Appeal
Are you looking for a present that is meaningful and makes a difference for Mother's Day? By donating £15 you can buy a pack of picture cards, which can reach up to 30 women in a health group.
Picture cards illustrate warning signs of illness, disease or emergencies, depict the barriers to treating these issues, and give suggested actions that the communities could implement.
Donate Now
We have spoken about women's groups. But what is the role of men and husbands in your approach?
"Women are very much encouraged to bring their partners to meetings and when given the opportunity, a lot of men are very supportive and help execute the solutions women have identified. We also now see more husbands accompanying their wives to healthcare facilities for antenatal care.
In one of our projects in Bangladesh, women first found it quite hard to meet regularly because it was not deemed appropriate for women to gather together. But local imams were engaged in the project from the start and were instrumental in ensuring community support and male involvement.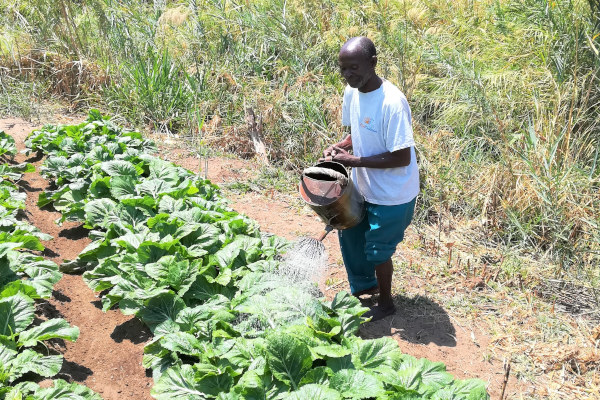 A husband watering a community garden in Uganda. Pregnant women receive free vegetables.
How do you withdraw from communities without jeopardising the long-term success of your intervention?
"We plan for our exit right from the beginning by making structures as sustainable as possible. This includes training the communities in the approach and providing them with tools to continue. Because our work is so community led and we are working from behind the scenes, the communities really see it as their project and feel responsible for taking it forward. We also engage local governments right from the start so they feel ownership of the project as well and can introduce the approach to other communities to achieve a wider reach of our approach. Our data shows that 18 months after we withdraw from a community 80 % of the groups are still running."
Thank you so much for this interview and all the amazing work you do every day!
WCF is one of the charities that we support with £1 from every order placed throughout the year. By shopping with us, you can help support women and children at risk.
---