Keep children cosy with our organic warming cushions
As winter looms, the season of simmering soups, sitting by the fireplace and wrapping up is merely weeks away. One of my favourite winter products to keep little ones warm (but everyone really 😊) are the adorable warming cushions/microwavable soft animals by EFIE. Handcrafted from organic cotton, filled with organic spelt and beautiful in design, they might become your family's cuddle friends over the cold months.
Conventional hot water bottles can be a concern for parents of small children, as they come with the risk of leakage and - if too hot - burning or overheating little ones. That's why I was all ears when I first came across the microwavable cushions and soft animals by EFIE.
The EFIE warming cushions are real multi-taskers
The cushions release heat gradually and evenly. After the stored heat has been released, the cushions do not cool completely, but maintain the room/body temperature. The warm cuddly friends have a soothing and relaxing effect - great as a sleeping aid for children and to treat tummy aches. They are also ideal for warming the buggy or pram on a cold winter's day. Adults can of course also use them - as a bed warmer, or to relieve cervical and muscular pain. And rather than tucking them away with the winter inventory when summer approaches, they can be used as a cold compress too as the grains equally store the cold when placed in the freezer.
It is comforting to know that with EFIE cushions children take no nasty fabrics into their bed! The beautiful warming cushions and soft animals are made of organic cotton and filled with a removable, microwavable organic spelt cushion. The products are certified by the Global Organic Textile Standard* (GOTS), which is currently the world's leading textile processing standard for organic fibres.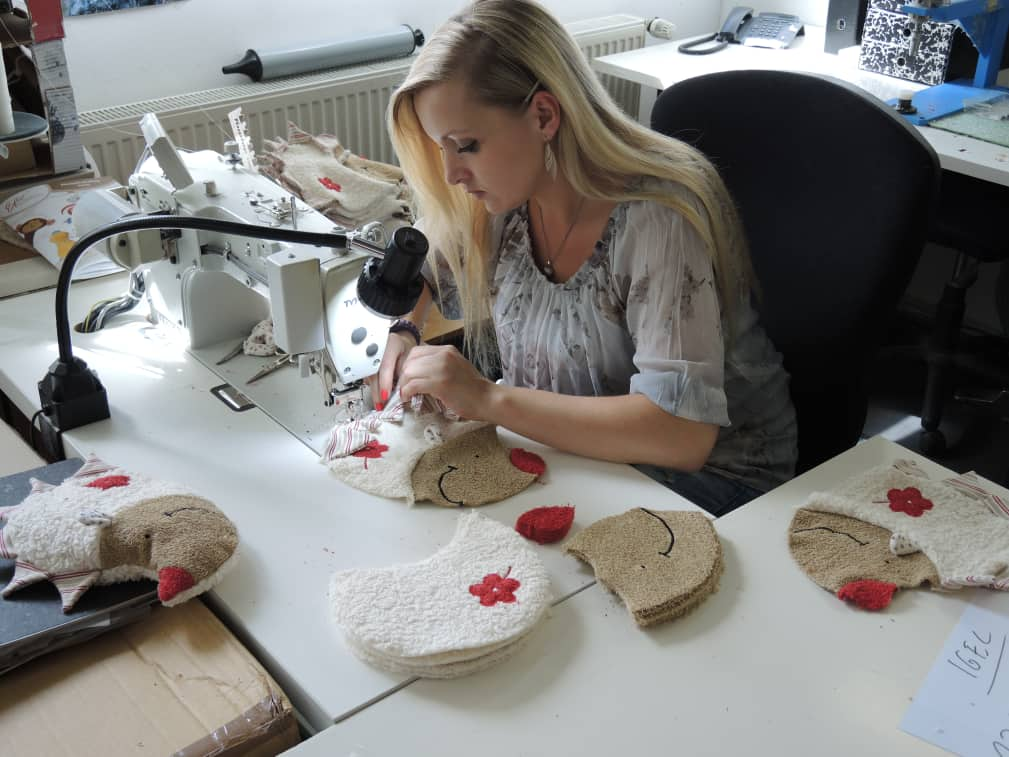 EFIE has produced endearing baby and children's clothing, toys and essentials since 1951. All products are made in Germany to ensure strict criteria in regard to quality and sustainability. The company has recently been nominated for the National German Sustainability Award 2019.
How to heat and cool your cushion
Heating and cooling the adorable cushions is easy. Simply place the removable inlay in the microwave. Alternatively they can also be warmed up on radiators or tilted stoves. It is normal for the cushion to give-off a relaxing grain smell when being heated up. To use them as a cold compress, place their inlay in a plastic bag in the freezer. Instructions are included in the product.
Product Suggestions
We stock several of EFIE's lovely cushions and animals. Click below to take a closer look.
We also stock other adorable, eco-friendly products by EFIE such as plush animals, cuddly blankets and comforters. Click here to take a look at our full EFIE collection.
Why not follow us on Instagram, Twitter and Facebook.
Or sign up to our Newsletter below to stay informed and to receive exclusive offers.
* The Global Organic Textile Standard (GOTS) sets ecological and social criteria for organic fibres. To fulfill the GOTS label grade 'organic' (which the lovely EFIE products do) at least 95% of the fibres must be organic. The social criteria are based on the key norms of the International Labour Organization (ILO). So you can rest assured that your product is free from forced labour, child labour, discrimination, that workers safety is ensured and that workerss can assemble and collectively stand up for their rights. An independent third party certifies the compliance along the entire textile supply chain.
---